What a fascinating end of the year. A very slow start to 2014 was matched with record numbers at the end of the year, as companies doled out the big bucks to hire and retain talent. 

Offers were up, but so were counter offers. Candidates in the hottest disciplines were getting multiple interviews and offers, and turning them down so often that I begin to think not turning down an offer was a sign that you weren't that good. 

And a series of interesting trends are going to hit us next year, as the digital talent hired in 2011-12 (what I call the three year window for promotion or job change)  pokes its head up and says, "what's next?" Add in generational gaps in the numbers of people available (less Gen-Xer's, Baby Boomers retiring), the hangover effect on Millennials who struggled through the 2008 meltdown, and a generally risk-averse candidate pool, and you have one of those years where the only answer is Facebook Memes on HireGeddon.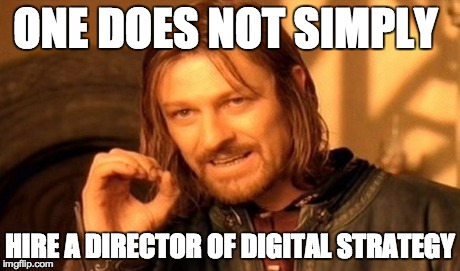 November and December were filled with a lot of phone calls and a lot of discussions with my target market - people making $100k to $180k in the digital and social spaces. With just one exception, everyone was willing to make a move from their current employer, and that one exception said late 2015. It's not that surprising that people talking to a recruiter would be open to moving, but keep in mind I don't advertise for positions or ask for resumes. These are cold and warm calls directly into businesses to find candidates. 

Spring Bonus season is coming, and 4th Quarter for ecommerce is done, so expect to see the hiring engines ramping up in January, with a lot of movement in March, and then a tidal wave of open positions in April as companies began posting jobs to replace those that left. That's a common cycle, but I expect to see over a hundred prominent moves in e-commerce along among big brands, and the fact is there just aren't enough people to fill the high-level jobs now. To make it worse, many companies hired the inexperienced and spent three years training their team, which means you have middle management with 10 years of digital experience, who hold together a much younger team whose sole work experience is cutting edge tactical.

To complicate things even further, job responsibilities are not clearly defined, which means that many candidates have resumes that read well, but their experience was limited to being in the room as it was being discussed. This was a common problem with developers in the 2000's, as you couldn't tell the difference between those who were on the team and those who did the work.

In short, you can't just post a job and hope you get a reasonable number of resumes. I've seen $60,000 jobs that get 1000 resumes, with hundreds of them seeming accurate until you call.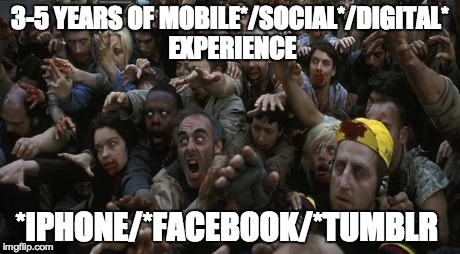 Here is some advice to think about for the next year, both for the client and the candidate side. It's not backed up by fancy reports, and it's focused around digital natives, but it's what I tell clients, and hopefully can help you in your job search. 

1) Clients that lose a talented junior executive need to hire placements quickly: 
There are a lot of hungry companies out there, and many are throwing money at people to move. Pay jumps of $20,000 are low for those in email, social display, social media, data and analytics, mobile optimization, and strategy. That money doesn't seem to have the power it used to, as roughly 50% of the people I talked to don't see money as their prime motivator. That's a generational shift we'll have to get used to. If you're hiring the under-35 crowd, don't think more money is the selling point. 

So why do you need hire replacements quickly? Company loyalty is no more. Boss loyalty is the new way to roll, and when your boss leaves, a major reason to stay disappears. We're not just talking about employees following a popular leader to another company. If one talented person leaves, the chances of the rest of the team bolting as well goes up. I'm seeing entire departments decimated by employees leaving, and when you trace it back, it almost always involved one important employee who left, and then a 6-9 month search that the internal team sees isn't that important. 

This is very important, and explains why so many candidates are looking for influence and attention instead of money. This has always been the case in B2B work, but I'm seeing a real change in B2C attitudes as well. Siloed companies are at the most risk. It's not just the work load - it's a signal of your commitment. 

2) It's Rarely A Bidding War, But It Is An Attention War
That may seem weird to say after I said salaries were going to explode, but the failures I'm seeing are in how we treat these candidates in the process, not what we need to pay them to fight off other offers. If you're not even getting to the offer stage, or you're making offers that aren't enthusiastically accepted, it's because you're the backup in case it all goes south. 

We worked with one client that was bringing candidates into the HR entrance and having them fill out paper forms. Is that how you want to start pitching a candidate you expect to run handle $20 million in digital spend? A simple fix? Bring them in the front - have manager meet them before the paperwork, or at the very least have the manager walk them back to HR. 

If your manager can't spare 5 minutes, paper boy isn't going to fix the problem. 

3) Set Expectations And Stick With Them
Candidates want to know what the process is. Tell them. Send it to them. Stick to it. They're evaluating you both on how you hire, and what they'll have to do to hire if they accept the offer.

4) If The First Time The Manager Sees The Resume Is When The Candidate Hands It To Them, You're Doing It Wrong. 
Don't laugh. I spend hours prepping candidates, and when an interview goes bad, it's usually because the manager spent of all 10 seconds preparing. When the candidate stops calling, do you think the manager is going to say, "I blew it," or are they going to come up with some reason the person wasn't a fit anyway? Stop losing good candidates whose only demands are that you look them in the eye and know their name before they walk in the door. 

5) They're Talking About You. And They Don't Like What They Hear
If you really want to know your company reputation, go to a conference, tell people you're interviewing at your company, and ask them what they think. Social/Digital people are the most connected on the planet. The good ones hear a company name, and before I'm off the phone, they're emailing, DM'ng, texting and messengering their connections asking if they should stay on the phone with me.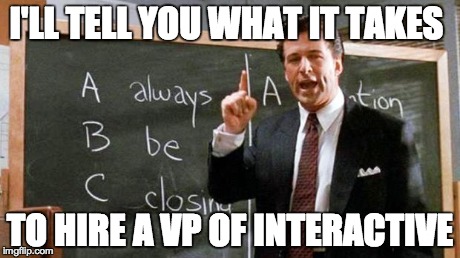 6) Make Sure You're Talking To Your Recruiter
Attention spans are short. It doesn't matter if you're talking to your headhunter or your internal HR - if they don't have quick feedback, they can't give quick feedback. In this world, no call means no offer. If you aren't interested in hiring, don't think you can come back in a week and set up another interview. 

Yes, this means you have to make decisions and live with them. But isn't that your job? 

You Have Six Months
Gas Prices Are Low. The stock market is soaring. Nothing is changing in Washington until 2016. The first six months are going to be very important if you want the best people. 

Oh, and one last piece of advice.